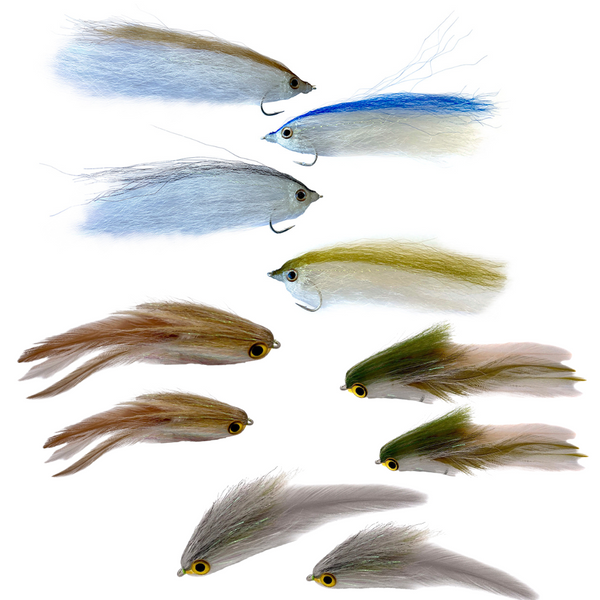 Our large Baja Medley includes 24 flies + 2 billfish tube flies in a large waterproof Fly Box:  6 Clousers, 6 Crease flies, 6 Nyacca Sardines, 6 Wiggy Air Hair Sardines and 2 Marlin Tube Flies in a Big Daddy Fly Box.  
The Nyacca sardine pattern was designed by Fly Fish Mex specifically for Baja's saltwater fish species including Roosterfish and Dorado. It is available in three colors (tan, olive, grey) and two sizes (2/0, 4/0) to offer versatility in every situation. Manufactured by Montana Fly Company. 
The aptly named Wiggy Air Head has a hollow head that allows the material to have a swimming motion when retrieved. Made from Kanekalon wig hair and tied on Gamakatsu hooks. These are the go-to fly for Baja roosterfish. 
Assortment of 6 flies in a Fish Ranch logo'ed fly box
Hook sizes: 2/0, 3/0
Colors: White/Tan, White/Olive, White/Blue, White/Black
Hand-tied in California by Jay Murakoshi
The Billfish Tube Fly was developed by big game fly fishermen Cam Sigler.  This is a big game tube fly with a popper head which you can trail any hook size you like. The fly is in the 6  - 7 inch range. These are hand-tied in California by Jay Murakoshi.
Hook size: these are unrigged- hooks not included
Colors: Pink/White, Blue/Yellow
Clouser is the go-to fly for a wide variety of species including dorado, roosterfish, bonefish, jack crevalle, lady fish, queen fish, barramundi, stripers, large and small mouth bass.  The number one favorite color is White/Chartreuse. These are hand-tied in California by Jay Murakoshi.
Hook size: 1/0
Color: White/Chartreuse 
The Crease Fly is for fish who feed on top or just below the surface.  They are tied on a heavy wire hump shank hook so the body won't twist.  Some of our favorite species to cast crease flies are roosterfish and dorado. These are hand-tied in California by Jay Murakoshi.
Hook size: #2/0 
Colors: Green/Yellow, Tan/White, Olive/White