Trip FAQs
Please read our Trip FAQs in preparation for your day of guided saltwater fly fishing.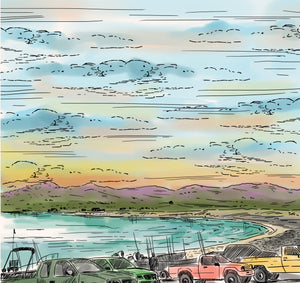 Protecting and respecting this community and ecosystem through best practices and sustainable fishing is our priority. Please read the frequently asked questions below to learn what to expect and how to best prepare for your trip. We are excited to share this special place with you!
Categories
General Trip Info
Full day trips are approximately 7 hours. We currently do not book half days. Trips include conventional fishing gear, and fly fishing gear is available to rent or guests can bring their own. The cost is per boat. Each boat holds a maximum of 4 people including the guide. One to two anglers can cast at a time (off the bow and stern). This depends on various factors, and it is most typical to have one angler casting at a time. Fishing typically takes place within 15 miles of the boat launch.
Advance reservations for all trips are encouraged, however, we will try to accommodate last-minute bookings. If within 7 days of the booking date, please reach out directly via email or phone.
We are able to accommodate children but please contact us directly after booking so that we can be sure proper safety protocols are in place for the trip. 
A deposit is required to hold the date on all trips. The deposit is currently $200 per day. The remaining balance will be automatically charged on the day prior to the trip. The credit card that was used to pay the deposit will be processed for the balance on the day of the trip. Please notify us prior to the day before the trip if you do not wish to pay using the card saved on file. 
We recommend tipping your guide between $60-100 USD per day. Tips may be provided in pesos or USD. Tips may not be paid by credit card. The closest ATM is in La Ventana, a ~20 minute drive away. Please plan accordingly and bring cash. Cash will also be needed to purchase live bait. Live bait is on average $30/batch and you can use 1-2 batches a day. The availability of live bait varies.
There are a limited number of guides available and we book trips on average 3 months in advance. Thank you for understanding!
Guide + Boat
Our guides are all Mexican local residents who come from multi-generational families of fishermen. The Sea of Cortez and surrounding Isla Cerralvo and East Cape areas have a long and industrious history of sustenance fishing, commercial fishing, sport fishing, and now fly fishing! All our guides have extensive experience and work closely with each other throughout the day.  
Fishing takes place out of ~22' pangas, with varying size outboard motors. This is the boat traditionally used in this area, as they are stable and comfortable both inshore and offshore in varying conditions. Anglers can cast from both the bow and the stern. The pangas will typically take up to 3 guests.
Where + When
Our shop opens at 5:30am. This gives you plenty of time to find the shop, stop by and pick up your coffee, food, and gear for the day, and meet your guide by 6:30-7:00am. Depending on the weather, availability of bait, and guest location, departure times may vary. The boat launch is a few miles past the shop on the same highway road. You can find our Google Map locations on our Location page.
Policies
One of the things that sets us apart and allows us to retain the best guides is offering a deposit system and the below policies.  Our guides work incredibly hard year-round with great patience and flexibility, and we endeavor to support them as much as possible. This also allows us to function as a new small business. 
Deposits are refundable up to four (4) weeks prior to the trip, however you will be charged a booking fee of 25% of the deposit, excluding add-ons. Deposits are non-refundable after this point. Cancellations within seven (7) days will be charged the full-rate, minus add-ons. We do offer as much flexibility as possible to move dates within a trip to accommodate weather/change of plans/missed flights, etc. However, this is subject to availability. Cancellations cannot be credited towards future trips.
Although it is rare, there are times when trips will be canceled due to extreme weather conditions. In this case we will make every effort to rebook your trip or offer an alternative such as guided beach fishing for the same rate. If you choose to be refunded, a booking fee of 25% of the deposit will be applied. We do not typically cancel trips for wind, rain, or the inability to acquire live bait.
Motor failure is another rare, but possible scenario. Days cut short due to mechanical failure will be charged the regular price, excluding add-ons. Trips cut early due to client preference and/or sea sickness will be charged the full trip amount. We do not tolerate any excessive alcohol consumption or drug use during our trips. This behavior will immediately forfeit your trip and you will charged the full amount. 
Safety + Liability + Insurance
Boating and fishing are dangerous activities. We advise all guests to employee caution and be prepared to encounter a range of elements including excessive sun and heat exposure, rough sea conditions, and local wildlife such as mosquitos, flies, jellyfish, and other marine life. Being aware of your sourroundings, especially the boat motor (when engaged), your fellow anglers (hooks and lines), and the landing of fish (teeth, barbs, bills) can make the difference between safety and crisis. Our guides are experienced and capable, please listen and abide by their instructions including during the launching and docking of the panga and fish handling. If special assistance for any activity is needed, please notify us of this prior to your trip.
We reccomend Global Rescue travel insurance for all guests. Visit www.globalrescue.com for more information.
All guests are required to sign liability waivers. Waivers will be provided by email with your reservation confirmation notice and can be forwarded to other guests, or sent directly upon request. The waivers can then be signed digitally. If you are unable to access the waiver digitally, please let us know to have a physical copy ready to be signed in the shop prior to your trip.
Gear + Clothing
Summer months are typically windless and hot. Breathable quick dry clothes are recommended, and as much skin coverage (hats, buffs, long sleeve shirts, long pants, gloves, etc.) as possible, in addition to sunscreen. It's at your preference whether you would like to get in the water, but we recommend bringing a swimsuit so that you have the option. A lightweight windbreaker/ rain jacket is useful year-round. Fall and winter months can get surprisingly cold in the morning, although it quickly warms up once you are out on the water. For these months you will want full sun protection in addition to heavier sweatshirts, jackets, socks, and/or warm hats. The fishing is highly visual and polarized sunglasses are essential. As in most sports, the key to a comfy day on the water is layers layers layers!
We have sunshirts, buffs, hats, sweatshirts, and sunscreen for sale in the shop. If you are worried about not having the right clothing for your trip, please reach out so we can help facilitate your needs.
Mexico customs allows 2 cameras, 4 rods, and 4 reels per person upon entering Mexico.
Beer + Cash
Two very important items: beer and cash!
Water is available in the shop to fill up your containers or you can purchase a thermos in the shop. Juice will be provided with lunch. We do not sell beer in the shop and local stores will not be open that early in the morning. Please plan ahead if you want beer!
Live Bait such as sardines, is typically used for chumming fish. Bait will be purchased with cash. This can vary between $30-$60 a day. You do not have to buy bait and have discretion over how much you would like to purchase. Bait is not included in the cost so please plan accordingly.
Gratuity should be given to your guide directly following your trip. This will need to be paid in cash, either pesos or dollars. We do not accept gratuity by credit card or IOU. We suggest between $60-100 USD for gratuity. This is the standard rate for this area, and these guys deserve it!
Fishing License + ID
Fishing licenses need to be purchased for each guest and downloaded onto your phone (or take a screenshot). Licenses can be bought online: here. In addition, each guest needs to bring a form of identification.
Fish Handling
This region has seen a dramatic growth in fishing pressure over the past decade, and although catch and release is lower impact than conventional sport fishing, the increased handling of fish is becoming evident in the some of the medium to large rooster fish. We primarily practie catch and release and seek to handle fish with the utmost care.
We ask our guests to adhere to the guidelines of:
• only remove fish from the water if under ~30 lbs.
• only remove fish from the water for less than 10 seconds for photos
• do not touch the gills
• do not let the fish touch the floor of panga or any boat surfaces
• do not hold the fish upside down (by the tail)
For more information about fish handling best practices please see: www.keepfishwet.com. 
Transportation + Lodging
San Jose del Cabo Airport (SJD) is a 3 hour drive, and La Paz Airport (LAP) is a 1 hour drive from La Ventana/ El Sargento or the Fish Ranch shop. Both airports have multiple options for car rental. Please reach out to us directly if you need private transport arranged. La Ventana/ El Sargento is the closest location for lodging, offering a variety of hotel, Airbnb, and restaurant options.
For lodging in La Ventana we recommend Hotel Todo Bien for its unparalleled views, accomodations, staff, and onsite bar and restuarant. Tell them The Fish Ranch sent you!
Carbon Offsets
Over the years I have used Terra Pass to offset the greenhouse gas (GHG) footprint of both my personal travel and professional work. The carbon calculator is easy to use and the company provides transparency into the types of renewable energy and GHG removal projects supported (which also adhere to the highest industry standards).
Learn more at www.terrapass.com and consider purchasing the Eco-Tourist Bundle to offset the impact of your travel.
Places to Visit
El Triunfo is one of our favorite places to spend a lazy morning or afternoon hiking up to the old smelter, learning about the rich history of mining in the area, and eating. Check out: Toto Frito (fresh fish and chips), El Minero (Paella on Saturday and Sunday), Cafe El Triunfo (strongest espresso and best pastries around), El Minero museum, and the Museum of Music, and Casa Parra for local arts and crafts.
In La Paz, visit Zona Central where you will find the popular Doce Cuarenta coffee shop, Nomada and La Mentita for a healthy lunch, MUABCS museum and giftshop, the Catedral de Nuestra de Senora de La Paz, or shop for more Mexican art at Casa Parra, and walk the Malecón, stopping at Bismarkcito for the best seafood. La Paz also offers Whale Shark tours.
La Ventana/ EL Sargento is full of beaches, kitesurfers, trails for mountain biking and hiking, and don't miss the hotsprings beach. It also offers a wide variety of food such as Cones Mariscos (bring your fish to be cooked), Playa Central (games and pizza), Tony's Pizza (pool table upstairs and epic view) or the more upscale options such as Nomada, Casa Tara, and Hotel Todo Bien.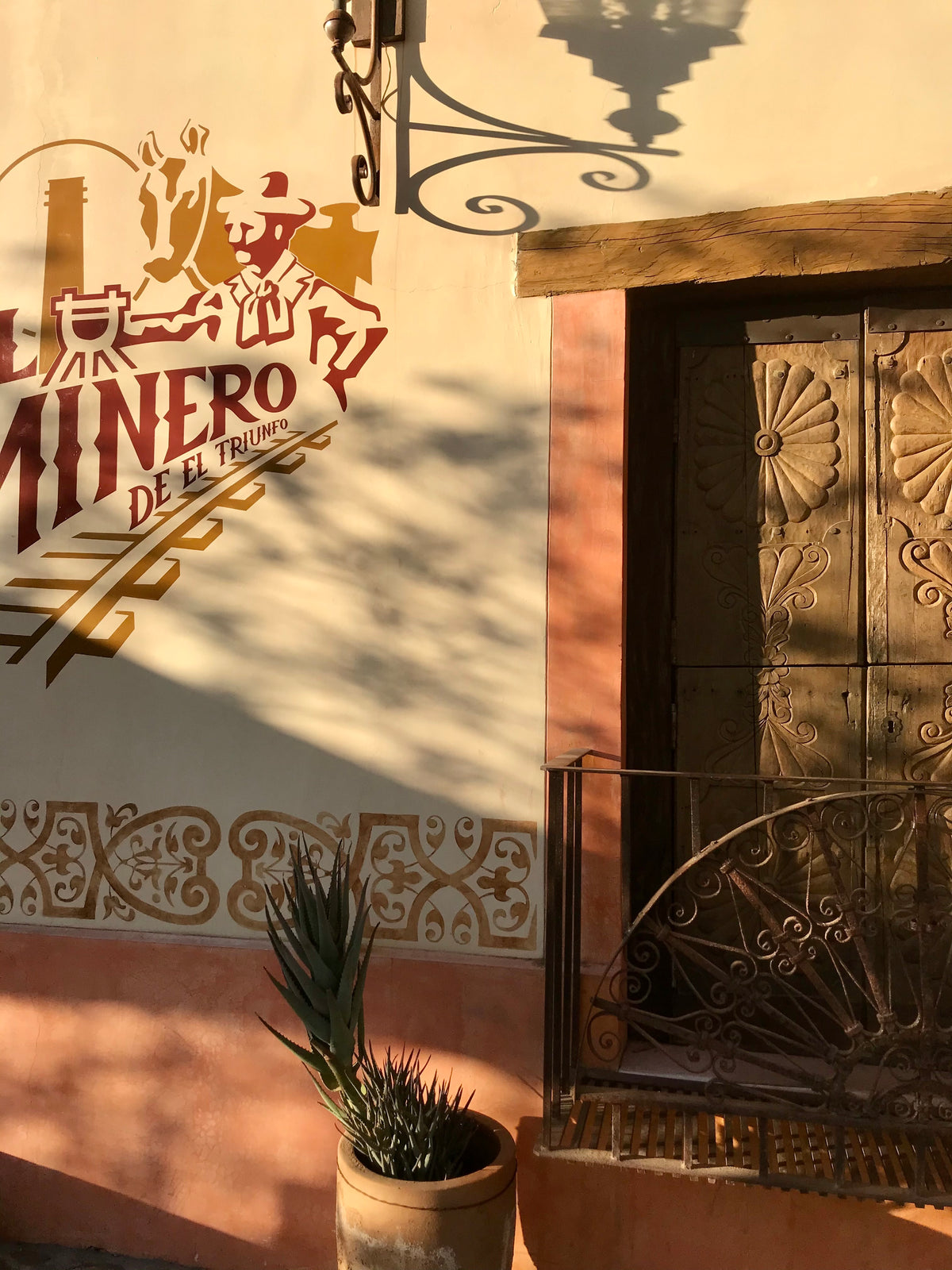 Photography/ Gyotaku
If you wish to capture your fishing memories on film, we work with a local marine life photographer who can be hired to join the boat for the day.
We also work with a Gyotaku print artist in La Paz. If you have a fish specimen you would like to preserve through the Gyotaku art print process, please let us know and note that we will only take prints of fish that will be consumed and are considered from "sustainable" populations. This does NOT include Roosterfish or any billfish.