the fish ranch
The Fish Ranch is a full-service saltwater fly fishing outfitter operating on the Sea of Cortez in Baja Sur, Mexico. We are located just south of La Ventana in the town of Agua Amarga. We offer day trips for the DIY'ers as well as all-inclusive hosted weeks. We also have an online store specializing in all the gear you'll need for your trip, clothing, and art.
Our guiding values are Community and Conservation.
My Story
Growing up on the West Coast, Baja felt like an extension of our backyard. It has always been a place of peace and rest for me. No matter where I was living or what I was going through, it provided respite.
Over the years I've felt led by my Aunt Roberta's spirit. She and my uncle would drive their two-toned blue 1983 F250 down the peninsula, camping and exploring. They eventually settled near their favorite surf spot just below Todos Santos, and over time other members of my family would follow. My Aunt has since passed away, but I feel her spirit intertwined with this place and my business efforts.
LOS PLANES VALLEY
I fell in love with this town the first time I drove over the windy hills from the Pacific side, down down down descending into the dark cool valley, at the edge of the Sea of Cortez, in the shadow of the island. Met with the musky scent of plumeria, the smoke of morning fires, the background of the low hum of the Tortillaria conveyor belt, and the high pitch of the call of cicadas. I knew this must be the place.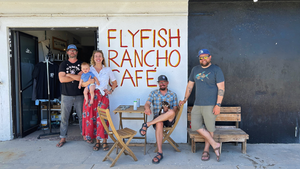 VISIT US
The best part is in the details, in the history, in the people, in the relationships built, and moments shared. We look forward to hosting you and sharing what we love most about this special place.
XO Mary & Sebastian